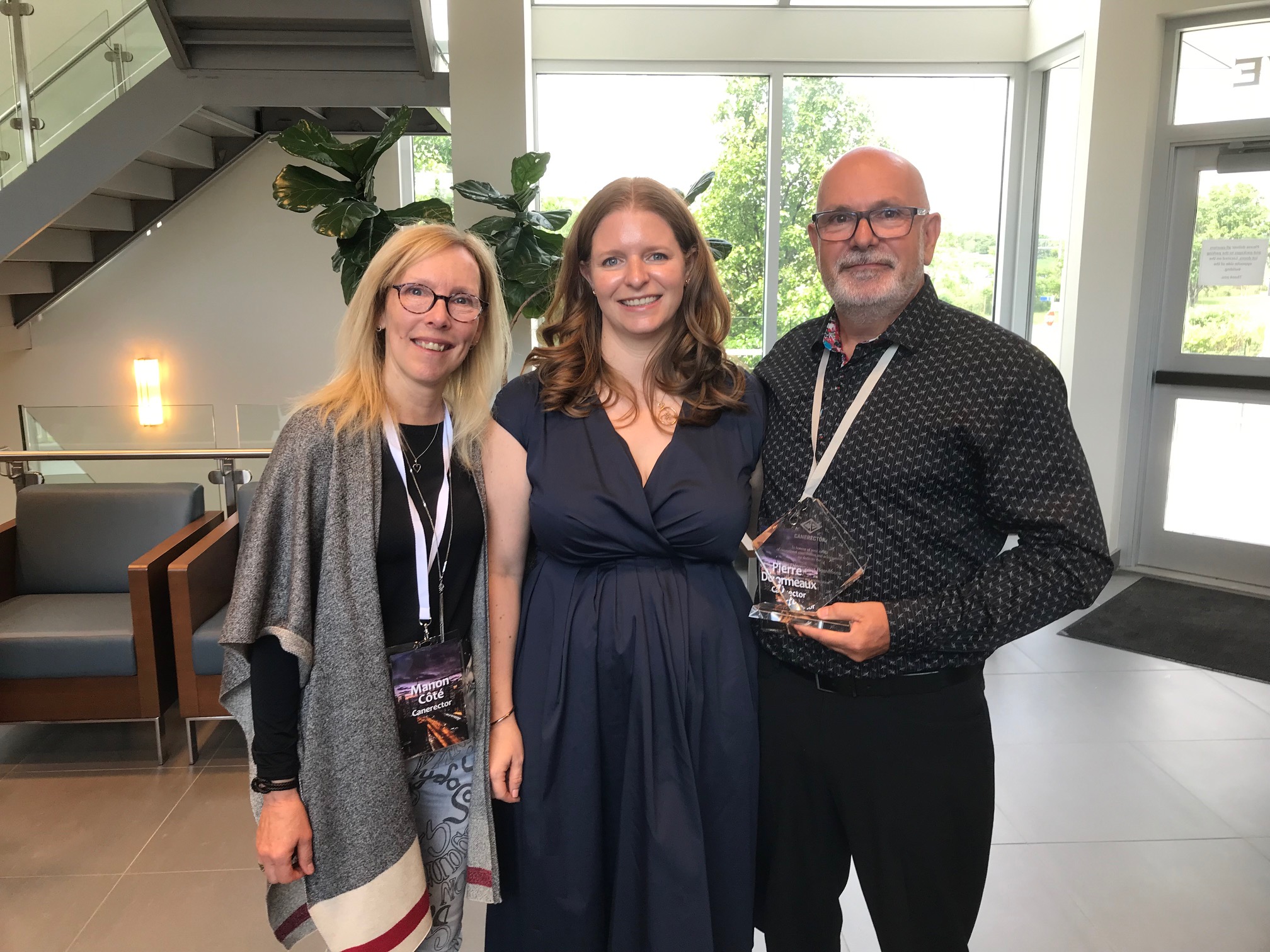 Photo above: Pierre Désormeaux and his wife Manon Côté stand with Canerector CEO Amanda Hawkins after his boardroom dedication ceremony at the 75th anniversary Canerector open house.
It is with much joy and gratitude that Canerector announces the dedication of our boardroom in honour of retired vice president Pierre Désormeaux. Pierre's work helped shape Canerector into the company it is today, which we greatly appreciate.
After retiring in October of 2020, we were not able to properly honour Pierre's career until two years later due to the COVID-19 pandemic. But fortunately the time arrived this June where we could celebrate Pierre in person during our 75th anniversary open house over the course of our Presidents Meeting weekend. We were pleased to have everyone present to dedicate a boardroom in his honour.
Pierre Désormeaux's Earlier Days – A Natural Leader
A leader at heart, Pierre is known for being helpful, ready to share his knowledge, and assist in whatever way he can. His career began following his graduation from the Collège St-Laurent in 1981. It was after graduation that he confidently applied to The Robert Mitchell Company and was hired as a draftsman. The Robert Mitchell Company was a very large business with an impressive history. Founded in 1851, it was the cornerstone of metal manufacturing in Canada's earliest days.
During his first five years with Robert Mitchell, Pierre worked in many departments. This afforded him the chance to learn all the various facets of the company. He was soon entrusted with increasing responsibilities, becoming an estimator, project manager, then manager of engineering, until he was promoted to general manager of Douglas Brothers Piping in 1986.
Douglas Brothers Piping was an important player in the piping industry, and happened to be the biggest competitor of Henderson Barwick, a Canerector company. But, Robert Mitchell was struggling and the company was facing very difficult times. Former Canerector CEO, Cecil Hawkins, saw an opportunity to help turn the company around. He knew it would not be easy and that he needed Pierre's help. In 2000, Cecil told Pierre privately that he planned to purchase Robert Mitchell and hoped to fix the business. Robert Mitchell needed a complete overhaul, which became the biggest challenge of Pierre's career.
Company Changes – Leading Us to Success
This period is still a blur in the minds of those who lived through it, known internally as "the earthquake." The conglomerate was divided into stand-alone operations that are still represented today: Mitchell Aerospace, Microzone (now DFMZ), Robert Mitchell Inc., Garth Industrial, and Douglas Brothers. Douglas Brothers Portland and Douglas Brothers Piping were merged with Henderson Barwick, creating Douglas Barwick.
These changes represented multiple restructures, mergers, and leadership structure changes, undertaken in a short time frame. This was unbelievably challenging. Only a year later, however, did the business start to generate profits. This proved these dramatic moves had indeed revived one of Canada's oldest manufacturers.
Once Pierre had completed the enormous task of restructuring the former Robert Mitchell Company, he transitioned to become president of the newly merged competitors now known as Douglas Barwick. During his time at Douglas Barwick, he led the mergers of three additional businesses into his group.
Becoming Vice President for Quebec and Eastern Canada
In the early 2010s, Canerector had another growth spurt. The recession of 2008 had passed, and many owners saw the opportunity to sell their businesses, as earnings picked up and the market recovered. Pierre was always willing to help onboard new Quebec firms, ensuring they felt comfortable with their new owner.
The Quebec group maintained a very close culture, meeting often, sharing ideas, and also having fun. Pierre became known as the godfather of the Canerector Quebec group. It seemed obvious then to promote Pierre to vice president for Quebec and Eastern Canada, since he had naturally become the leader on his own. This role let his sociable nature and leadership skills shine. The Quebec network was stronger than ever, building, growing, and having fun together.
Canerector was an organization with 25 businesses entering the 2008 financial crisis, though added 31 businesses within a three-year period not long after. To call this chaotic would be an understatement. Pierre stepped up, serving as our contact for our existing businesses, onboarding new companies, helping with due diligence while still executing on big improvements within our businesses.
Thanks to Pierre, Canerector was able to take advantage of opportunities to embark on daunting and difficult expansions, not once, but twice. These very difficult times in the company's history created the group of businesses that you see today. The scale of these changes, twice doubling the size of the company in a very short period, would be overwhelming for any executive. But, Pierre was always there to adapt, take on the challenge, and do what was needed.
Merci, Pierre!
We are thrilled to recognize Pierre's career and contribution by dedicating a boardroom at our Toronto office in his honour.
Pierre, tu as notre gratitude, notre respect et nos meilleurs vœux pour une merveilleuse retraite. Tu le mérites et nous nous souviendrons toujours de toi comme un grand ami de cette organisation. (Pierre, you have our thanks, our respect, and our best wishes for a wonderful retirement. You deserve it, and we will always remember you as a great friend of this organization.)
Merci, Pierre.