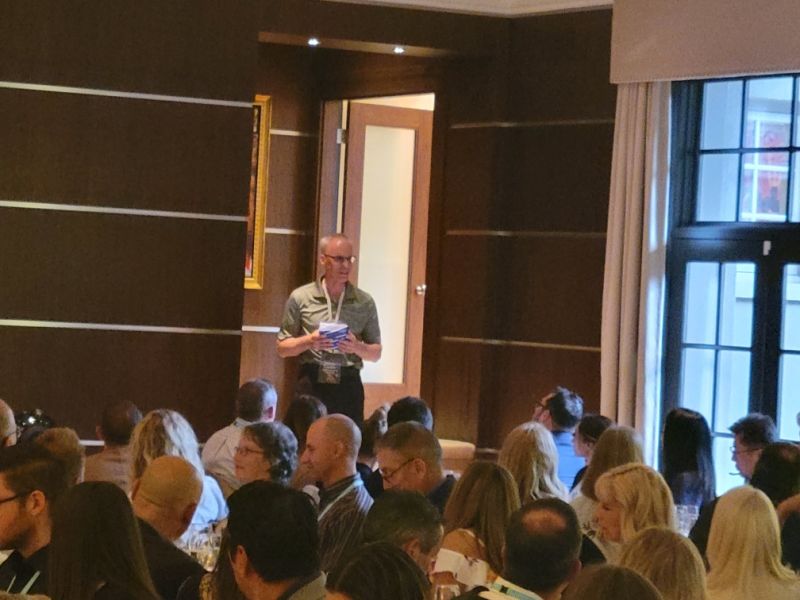 Photo above: Randy Lauder speaks to his peers after receiving his retirement recognition award at the 2022 Presidents Meeting.
Canerector wishes to extend our thanks and appreciation to Randy Lauder on his 20 years with the company as he moves into retirement. Over the course of his time as president of MBB Power Services (MBB), Randy has become known for his great knowledge, skills, and experience in the difficult business that is fieldwork. He will be greatly missed after his retirement.
Randy Lauder's career beginnings in Edmonton, Alberta
Randy started his career at Foster Wheeler, a boiler manufacturer business, after he and his wife Rose moved from Southern Ontario to Edmonton, Alberta in the late 1980s. When Foster Wheeler's boiler business closed down in the mid-1990s, Randy received a call from a headhunter asking him if he was interested in a position at MBB Power Services in Ontario. Randy and his wife loved Edmonton, but they decided he would accept this position and move back to Ontario to be with their aging parents.
In 1996, Canerector bought MBB. At the time, MBB was a boiler repair company based in Nova Scotia. The business needed restructuring and a change in leadership. The field boiler business would be moved to St. Catharines, Ontario as a result, with a focus on Ontario and Alberta industrial customers. Thanks to Randy and team, MBB started to see success within a year of being purchased.
A career highlight – working on the Imperial Oil Mahkeses site
Randy has been a key individual in the success of multiple projects for different Canerector companies. One of the biggest challenges of his career was a contract MBB and TIW Western Inc. (TIWW) worked on together at the Imperial Oil Mahkeses operation in Cold Lake, Alberta. MBB has exclusively carried out all TIWW field installations since its early beginnings as part of Canerector. Both companies have an exceptional relationship; a great example on how intercompany collaboration can be successful for many years.
The Imperial Oil project, which ran from January to May 2013, was to remove and replace three of seven complete modules on two heat recovery steam generator (HRSG) units. TIWW designed and fabricated the modules in Calgary and transported them to the site where Randy, the lead MBB representative, placed the three shop-fabricated modules on temporary foundations and field-assembled them into one subassembly prior to the shutdown. Randy and his team struggled to complete the project on time as the extreme weather conditions in Alberta complicated the work. The equipment just didn't want to work at -40 C.
Once each HRSG unit was shut down, the existing modules were removed in one massive section, and the new one was lifted and set into place. Each module lift weighed over one million pounds and it took a full day to complete each step. It was a 24-hour operation that required 22 boilermakers per shift and 10 MBB staff members to keep the project moving smoothly by tying the interconnecting pipe and installing the gas baffles and casings. It was the first time in MBB history they completed a project like this. Randy and his team were proud to have completed the project flawlessly, and many accolades were given from the Imperial Oil team.
Strong leadership leads to becoming President of MBB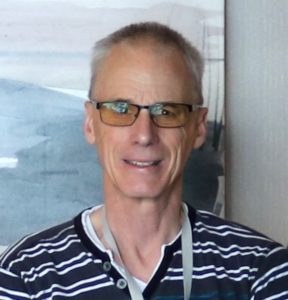 Randy's customers have always appreciated him greatly. He is meticulous in his estimates and willing to discuss and participate in any discussion or conflicts with customers. These companies were able to benefit from Randy's practical site experience and leadership skills during different projects. It is for these great qualities that Randy was chosen to take over as the President of MBB in February of 2015.
Fieldwork is demanding on a team. That is why it's necessary to have leaders like Randy Lauder to ensure their team is prepared with good planning, that safety measures are maintained, and that the team is agile to make adjustments quickly when facing unexpected challenges.
A well-deserved retirement for Randy Lauder
We consider ourselves lucky to have had Randy amongst our leaders. He is a great team player who is dedicated and has worked hard for so many years. We will greatly miss him when he leaves for his retirement.
Thank you, Randy, for all your years of exceptional service. We wish you and your wife Rose all the best in the future.