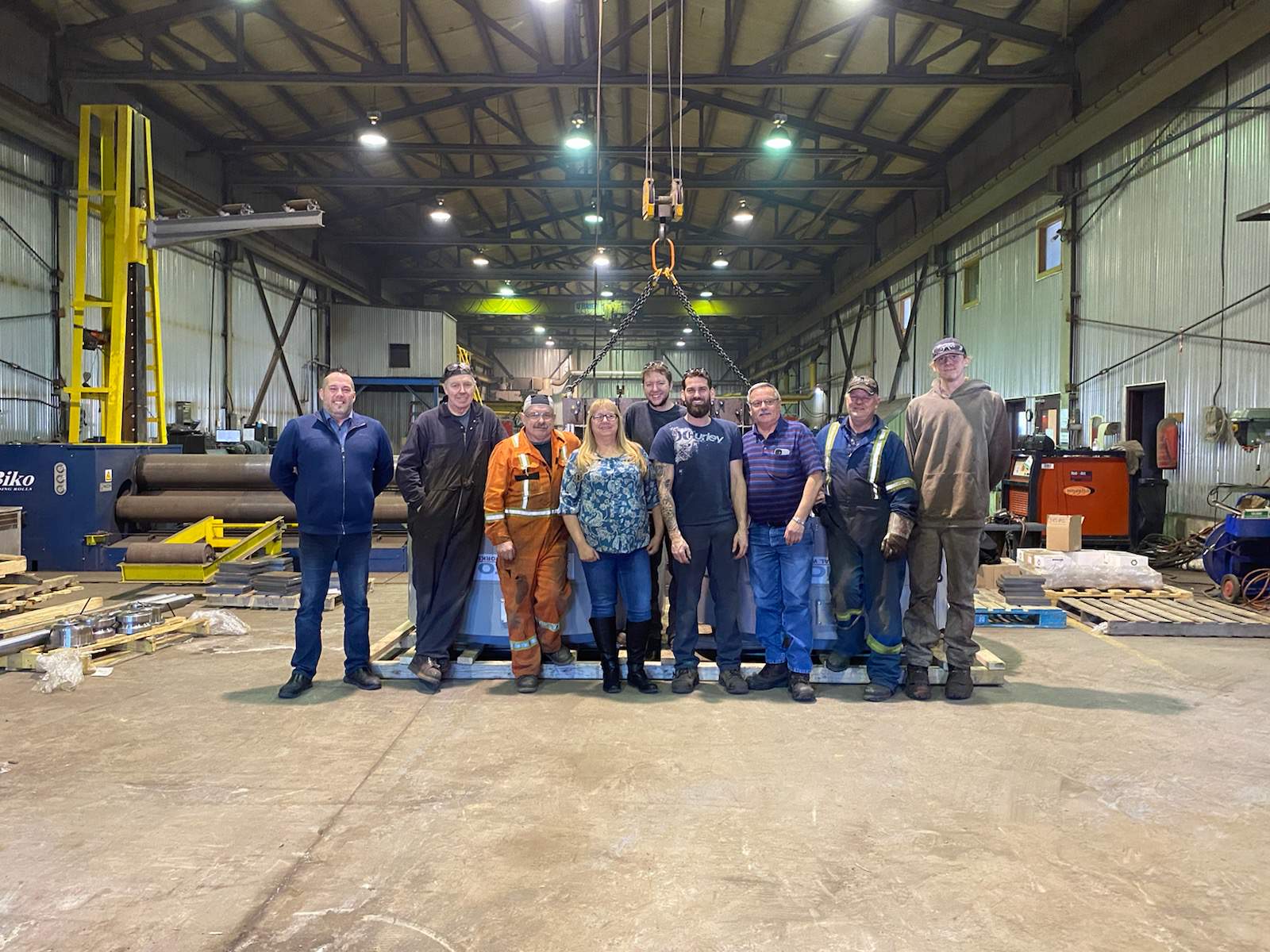 Photo: The Labrador Metal Works team stand proudly together following the reopening of their company after closing their doors due to the COVID-19 pandemic.
This year, Labrador Metal Works' team has plenty to celebrate! The business is once again up and running after being shut down completely for almost two years. Hit hard by the COVID-19 pandemic, it is wonderful to see Labrador Metal Works (LMW) coming back stronger than ever.
LMW is a full-service steel fabrication company based in Bathurst, New Brunswick. They provide repairs of steel fabricated products, heavy equipment, and hydraulics. Just before the pandemic, LMW merged with the business Savico – a manufacturer of customer steel products, refractory lined products and pressure vessels, located in Berthierville, Québec. This merger was a great opportunity for both businesses to support each other and work on new projects together.
Pandemic Sees Closure of Labrador Metal Works
When the pandemic started, health initiatives were implemented to slow down the spread of COVID-19. These initiatives put a halt to operations in many industries, including the operations at LMW. As the situation persisted, many companies had to make hard decisions. In June of 2020, the LMW shop in Bathurst closed as a result.
This closure was hard on everyone involved, including Dominic Bergeron, General Manager at Savico and LMW. Dominic had carefully led the merger of both businesses and was excited for the growth and success of the two teams. Joan Gionet is one of the LMW founder's family members still working at the business. She has been with the LMW team for 33 years and was brokenhearted to see the shop close after many years of supporting its community.
Savico also struggled and adjusted during the pandemic, but managed to remain afloat until business seemed to be gradually returning. Mining companies were once again calling Savico regularly to inquire on projects or possible jobs. Savico's team got busier, to their great delight. It seemed like customers were eager to get back to their pre-pandemic pace and the team had too much work to handle. To help with this increase in workload, instantly they thought of their friends at LMW. Their first call was to Joan to ask her to start calling the former employees to see if they were available to return to LMW.
LMW Makes a Comeback – Stronger Than Ever
As the pandemic waned and customer demand returned, LMW at that point had been closed for almost two years. Many of its former employees had found work elsewhere. However, LMW had left an impression on its old team and more than half of them returned.
All employees who returned to the shop are involved in the direction of the company's future. "Everybody is an integral part of this machine," says Joan. The fact that so many members of the original team came back to LMW is quite telling. As Joan says, "we have an awesome team and we believe we can do great things together."
As seasoned LMW employees returned, many newcomers also joined the company's ranks. Eager to work, they are picking up essential knowledge from the experienced team who have been working at this shop for 20–30 years. Now, as the demand grows for LMW's exceptional service, the company is actually surpassing the employee count from before the pandemic.
Our congratulations to the business on its reopening, on the strength of its team and their support for their community.