Reaching 50 successful years in business is no small feat. It would be easy for any company to rest on its laurels.
But resting is not what Keddco Manufacturing is all about. According to President and General Manager Ron Pitre, success in the next 50 years requires a commitment to evolving and adapting to a rapidly changing marketplace.
"I think in the old days, everybody kind of stayed in their lane," Pitre said. "Today, you have to be really good at several things and that kind of growth is what my group is focused on."
For Keddco, the 'old days' date back to 1973 when the company was founded in Sarnia, Ontario. Since then, the business has become a proud member of the Canerector family and has also expanded to Houston and Edmonton. Through it all, the business has continued to stand as leader in the Pipe, Valves and Fittings industry.
The company recently celebrated its 50th Anniversary with events at the Sarnia and Edmonton offices. The milestone was celebrated with refreshments and visits from clients and local dignitaries. The event also allowed for reflection on the key contributors to Keddco's success over the past half-century.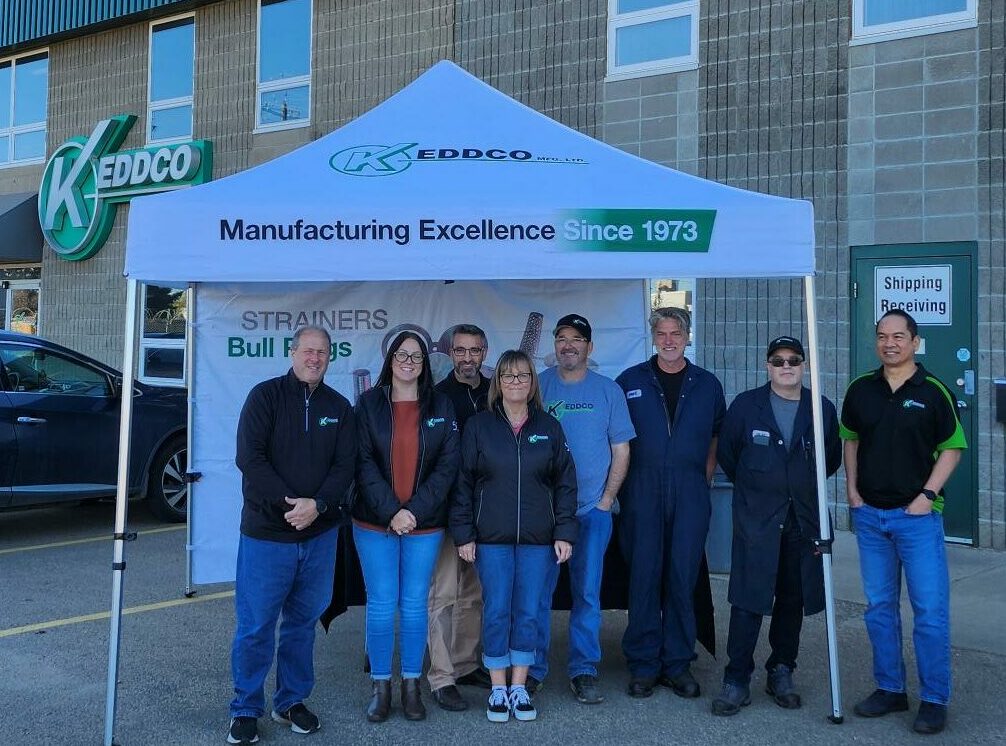 "We have so many great people here who are committed to going the extra mile," said Sales Manager Justin Brogden. "Some of these people have been here for 15 or 20 years, and they've developed exceptional customer relationships."
It is this commitment to quality by the Keddco team that has Pitre, Brogden and the rest of the leadership team excited about the next 50 years. Keddco has recently invested heavily in new machinery and new processes to ensure success in the years to come.
"We brought in a cutting-edge piece of machinery," Pitre said. "It's very high-end and will enable us to do more in the near future than what we're currently doing."
Change is not always easy to embrace, but Pitre has been thrilled by how the team constantly looks for ways to use the new technology to improve operations.
"We had one of our guys working on a new piece of equipment, and one day he came to us and said he had found a way to reduce the grinding time for a procedure by at least seven or eight minutes," Pitre said. "It was just him on his own experimenting with ways to improve things."
Empowering people is a core value not just at Keddco but within the entire Canerector family of businesses. Canerector's VP Marc Warden believes that Keddco's commitment to excellence will keep Keddco as an industry leader long into the future.
"Keddco has the company mindset that we believe in and support. We are proud to have them as part of the Canerector family." Warden said.
For Brogden, the idea of true employee empowerment is something that he approached cautiously at first.
"When Ron interviewed me, he said, 'I want you to challenge me.'"  Brogden was skeptical.  "But it didn't take long to see he meant what he said, and it let me off the leash, you could say. That kind of trust in your people is everything."
This focus on continuous growth and evolution of the company involves not only how they conduct business but also where. According to Pitre, expansion outside their current market is a key goal.
"We're actually looking to expand our position outside Canada and the U.S.," he said.  "We've been selling to customers in Mexico in the last year or so, and a lot of what we're doing is so we can expand on that even further."
If all anniversaries are a time to look back and look ahead, it's fair to say that for Keddco Manufacturing, this anniversary is heavily tilted to the latter.