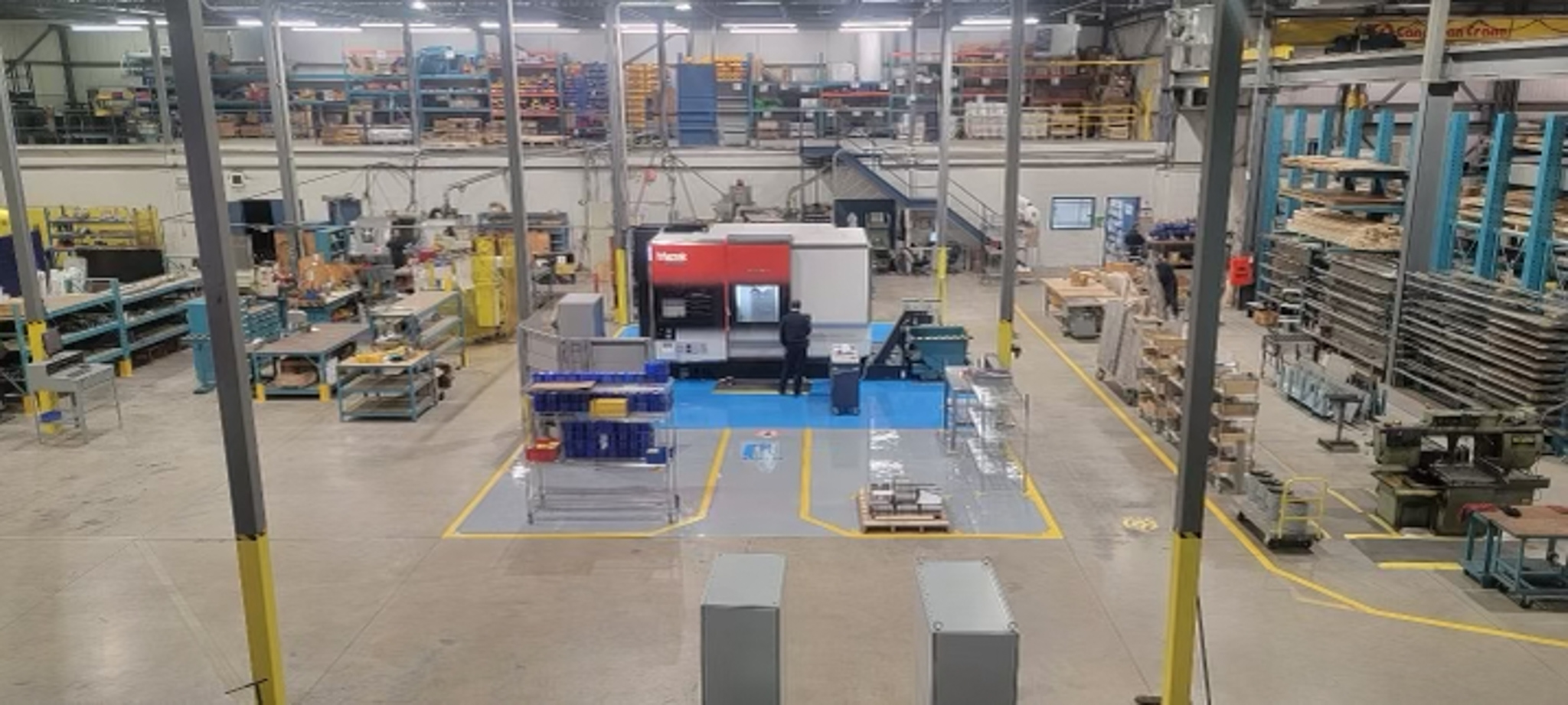 Across the Canerector community, businesses are thinking long-term and reinvesting in their operations by purchasing modern equipment that will help their teams work more efficiently, expand their current capabilities, and ultimately help them produce in higher volumes.
For three of our companies in particular, the recent installation of their newest machines marked exciting steps forward for their organizations that will give them a competitive advantage, both in today's market and into the future.
Paprima Industries Inc.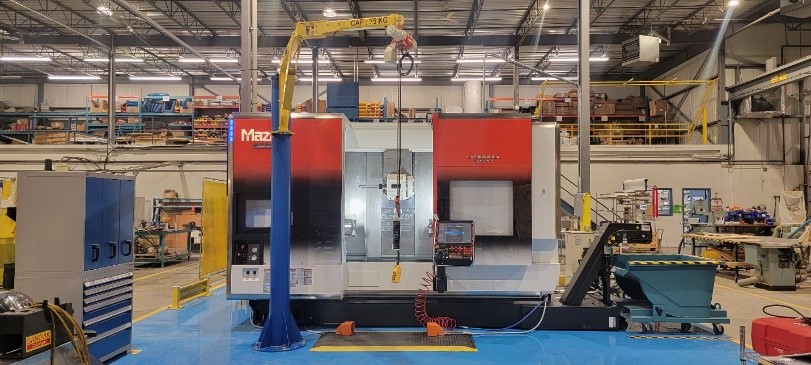 According to Terry Chaput, Production and Operations Manager at Paprima Industries, a significant amount of time and energy went into the decision to upgrade to the Mazak Integrex i-250H S Multi-Tasking Center for Paprima's high-powered part production needs.
In 2019, the team began investigating the high maintenance costs and increased downtime they were experiencing with their 2006 milling and lathe machines. To dig a little deeper, they even performed simulations on several high-pressure components that would ultimately inform the decision to modernize their machinery.
"We were able to reduce total machine time from over nine hours per piece on two separate machines to approximately two and a half hours with a single set-up," said Chaput noting that they also eliminated the time and transport costs associated with sending outdated parts offsite for heat treatment.
For Chaput, the returns the company is already seeing on their investment have made the lengthy process worthwhile. Between waste elimination, improved turn times, lower overhead and maintenance, and increased automation that constantly evaluates performance, there's no question that the Integrex was the right choice for Paprima!
Keddco Manufacturing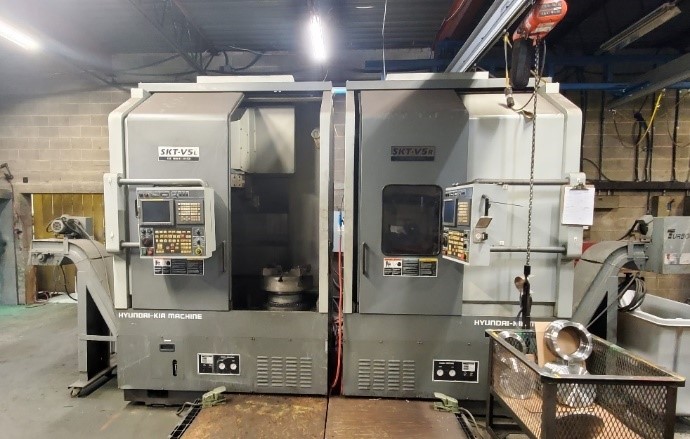 The kinds of challenges that the team at Keddco Manufacturing was facing were exactly what you might expect that those working with WWII-era screw machines might face. When their equipment worked, it worked fast, but an increase in maintenance requirements and limited access to rare parts and operators quickly led to low output and the need for an excessive disruption.
For Keddco's leadership team, these pain points simply weren't sustainable in the long term, which is why they eagerly invested in three new machines in January of this year.
When describing the Mazak HQR-200MSY—a dual spindle lathe with a bar feeder and parts collector for turning swages and bull plugs— Ron Pitre, President and General Manager, points out that the machine is fitted with quick change collets which will allow for "massive savings in change-over and setup time," whereas the Hyundai SKT-V5L and V5R mirrored vertical lathes will provide optimal operator ergonomics and great overall efficiency.
In making these investments, the Keddco team waved goodbye to costly maintenance expenses and time wasted on lengthy changeovers. Instead, the team now enjoys the peace of mind that comes with reliable machines that prioritize operator experience with modern safety features. Sounds like a solid investment to us!
TJ Machine & Tool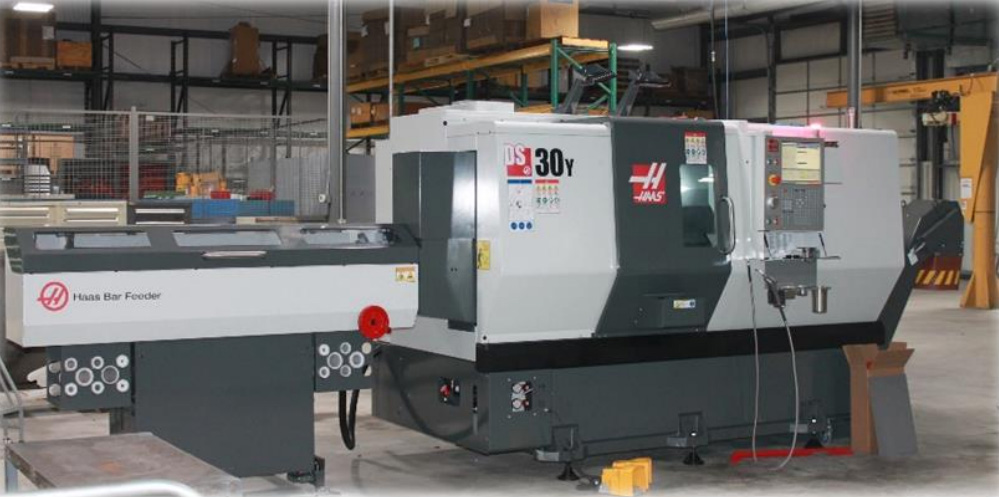 With the arrival of a pre-set, live tooling, 4800-rpm spindle rate machine—the HAAS DS-30Yand bar feeder—the team at TJ Machine and Tool has expanded the capabilities of their lathe department and decreased run time on the machine, creating significant efficiencies on the plant floor. If that weren't reason enough to celebrate, this new piece of equipment will give the team a unique advantage with high-value customers like Bell and Boeing, that depend on this technology to manufacture unique and critical alloyed parts at a competitive price and with shorter lead times.
The TJ Machine team has also welcomed the arrival of a VF-9/50 Vertical Mill machine, a five-axis with extended bed that has physically replaced two antiquated machines that will replace the capacity of more than four three-axis machines through increased efficiency in programming, loading, manufacturing, and inspecting during the product manufacturing process.
"With the promise and delivery of these new machines, morale has been elevated with the opportunity of personal, professional, and company growth," TJ Machine and Tool President, David Denton said of their investment. "The entire TJ Machine team is feeling energized by the equipment."
Denton went on to express TJ Machine's commitment to continued investments that will not only further expand capabilities and targeted market segments, but that will build on the knowledge and skillsets of their employees, as well. Congrats to David and the entire TJ Machine team!
Scale responsibly with informed decisions and actions
As any business owner will attest, the task of learning how to scale your operations is one you can't afford to ignore, and often requires cautious optimism on behalf of leaders. By understanding the need for careful evaluation of their company's current state, researching the latest technological advances, and performing a solid cost benefit analysis before making significant investments, companies across the Canerector community are empowered to make the right decisions with confidence.
Congratulations to TJ Machine and Tool, Keddco, and Paprima for furthering their vision and strategies through their latest investments!