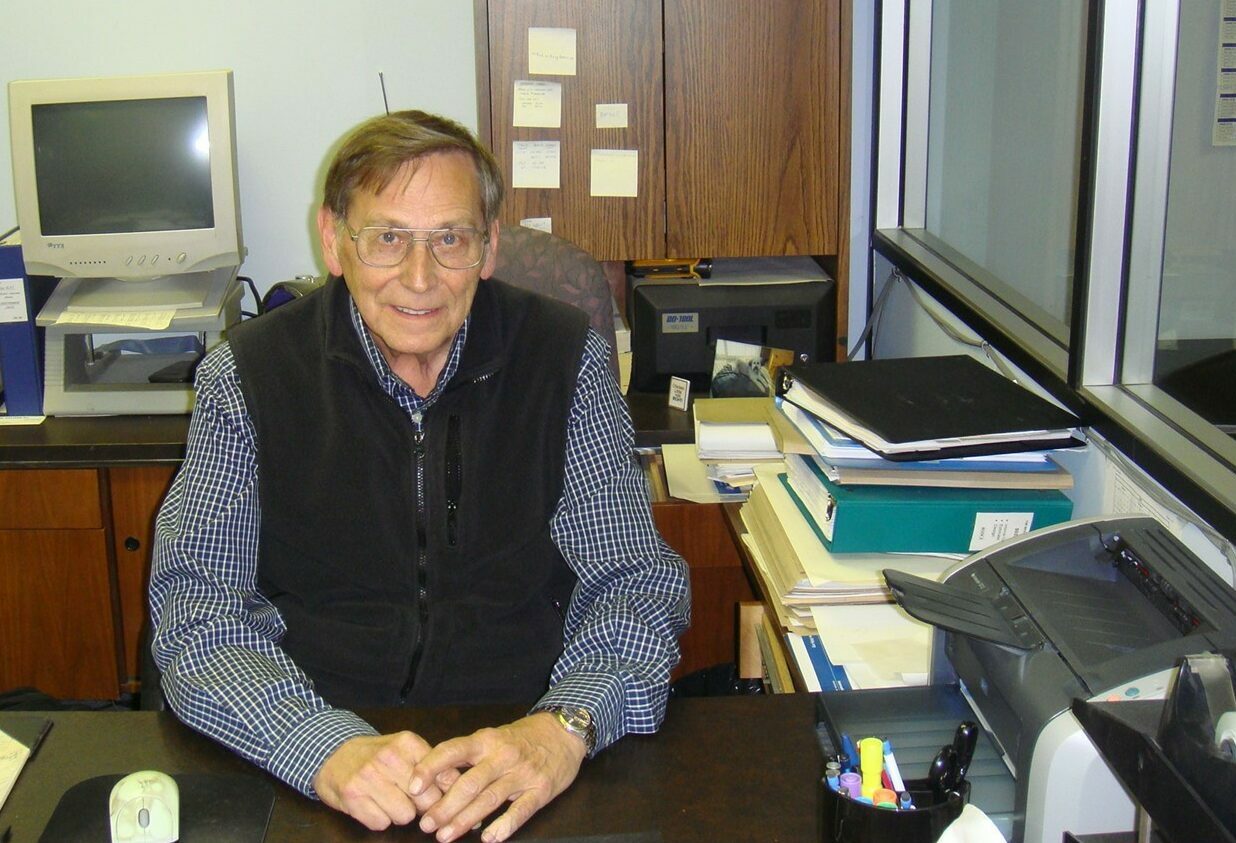 Stewart "Stew" Kerby
March 7, 1936 – February 17, 2023
Years of Service: 1957 – 2007
It is with heavy hearts that we share the recent passing of a treasured friend and an important figure in Canerector's history – the one and only Stewart "Stew" Kerby.
Stew was born in Winnipeg in 1936, and moved to Quebec as a young man, where he received a Mechanical Engineering degree from McGill University. Following his graduation, Stew lived in both Edmonton and Toronto, before ultimately settling in Calgary in 1979, where he raised two sons with his wife, the late Marsha Lynn Kerby.
Stew's illustrious career spanned over five decades, beginning in 1957 when he joined Toronto Iron Works as a Thermal Design Engineer. After quickly promoting to leadership roles, Stew became General Manager at TIW in 1974, and met former Canerector CEO, Cecil Hawkins just a few years later, when he gave him a tour of the recently acquired CK Steel & Machinery Ltd. plant. Back then, Stew described CK Steel as "a relatively small structural steel and heat exchanger fabricator," but he had bigger plans in mind, and was hard at work pioneering technology for the design, supply and servicing of high-pressure Oilfield Steam Generators from CK Steel's Calgary plant.
With a move out west in 1979, Stew took on the General Manager role at CK Steel, known as TIW Western or TIWW today, and in 1983, Stew and his 25+ years of experience officially entered the Canerector orbit with our first major acquisition.
Under Cecil's leadership, the newly acquired TIW Metals Group was quickly restructured into three independent operating divisions of Canerector Inc. The company had been through two very difficult insolvencies prior to the acquisition by Canerector, and these experiences had made an impact on Stew. Having ended up with a 27-year-old owner, Stew tried to impress the lessons he had learned on Cecil and ensure the company was a success. Cecil remembers, "As a result, Stew became the sounding board for many of my ideas, such as decentralized management, incentive plans, minimal corporate bureaucracy, private ownership, financial strength, and cautious expansion."
We had the pleasure of working closely with Stew for the decades to follow, and were pleased to see that his dedication to TIWW continued beyond his 2007 retirement, when he worked as a consultant for an additional three years. Stew survived a stroke in 2011, and though his life changed in many ways from that point forth, his trademark kindness and character thankfully never abated. After all, as those of us who knew him well can attest, our dear friend packed a great deal of life into his 86 years.
With a dynamic personality like his, it came as no surprise to new acquaintances when they learned of Stew's many interests. He was a life-long lover of animals, nature, and sports, staying active during the different phases of his life by playing hockey, skiing, and becoming a long-time member of the Calgary Canoe Club. Stew played both clarinet and saxophone in bands in his youth, loved going to the symphony, and took immeasurable joy in travelling and seeing the world with his lovely bride.
Lucky for him, Stew found great satisfaction from his work, and the community it afforded him, as well. As someone who was endlessly curious himself, he was a fountain of knowledge to those around him, and always quick to impart his intricate understanding of the technical aspects of TIW Western's products, though there was usually nothing quick about it…
"A simple question could yield hours of advice," Canerector CEO, Amanda Hawkins remembers fondly. "A tip I received from my colleagues was never to ask Stew anything just before lunch." That eagerness and passion was just part of his charm, as they say, and Stew was known to extend that charm to employees and customers alike. "Once, a customer was digging into details about our products, so I told him I knew just the guy to help him," Amanda recalled. "Sure enough, he called back saying 'Stew sure knows his stuff!', though it was nearly three hours later!"
In Canada, where engineering graduates are invited to a ceremony known as "The Ritual of the Calling of an Engineer" and presented with iron rings to mark the momentous occasion, students are asked to invite an engineer they respect to join them in this important rite of passage. Intended to invoke the moral, ethical, and professional commitment of an engineer, the ceremony and the ring itself are meant to serve as a reminder of this obligation, and when it came time for Amanda to choose who would stand with her and present her ring, the answer was clear–you couldn't ask for a better mentor than Stew Kerby.
Though his countless friends and former colleagues have jokingly reminisced about memories of smoke-filled meeting rooms, to Amanda and so many others within our community, it's Stew's unmatched work ethic, generosity of spirit, and good humour that will be sorely missed and remain in our hearts forever.