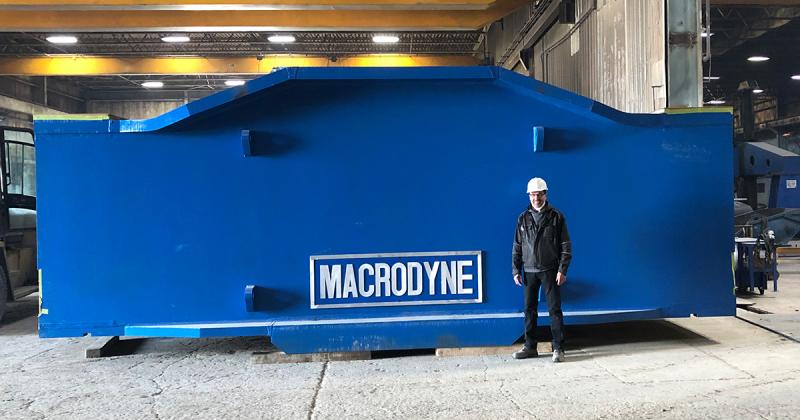 Conrex Steel unveils new massive 3500-ton hydraulic press – the largest head press of its kind in North America. The project was lead by Conrex Steel in partnership with hydraulic press manufacturer, Macrodyne Technologies Inc., and with the support of Next Generation Manufacturing Canada.
With facilities in Etobicoke and Kingston, ON, Conrex Steel specializes in fabricating conventional (one piece) and segmental (multi-piece) heads for storage tanks and vessels throughout North America. The idea for this large press came from customers wanting to order sphere tanks directly from Conrex, or wishing Conrex could form bigger, thicker heads in one piece. Conrex started looking into government grants to bring this dream to a reality, successfully securing funding under Canada's NGen non-profit organization, which supports advancing Canada's, manufacturing industry.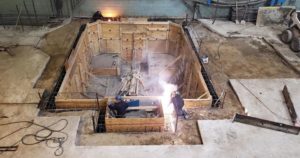 Next, Conrex had to address the shop's building limitations – the floors for the new hydraulic press would need to be reinforced to support its 3500-ton weight. Subcontractors were scheduled to start building a foundation bed for the press when COVID-19 unexpectedly hit and welcoming strangers into the shop was no longer an option. Determined to not dampen their plans, the team decided to build the foundation bed themselves. A 22 by 29 foot pit, as deep as 18 feet in some places, was excavated for the hydraulic press foundation. Then the press installation began, assembling the shipped press components at the shop.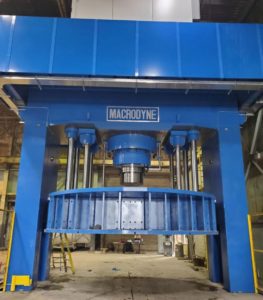 To overcome the building's overhead crane tonnage limitation, a new vehicle was purchased. The team modified the vehicle, adding a wider top so it could load large plates and sphere components, as well as move steel around safely. This customized transfer cart with solar panels would also aid in transfer of dies that can weigh over 50,000 pounds. As a value added feature, the decision was made to install a new robotic system to cut or bevel holes in heads. This newly added system takes away the task of cutting holes manually, which is usually done by the customers once the head is delivered.
A final challenge that the team had to overcome was to design the dies themselves for this new customized hydraulic press. Developing dies being new to Conrex, the team had to first be trained on how to use the press and understand its capacities and limits. George Brown College in Toronto assisted Conrex in establishing intellectual property in designing and forming 15 dies of the most common heads' sizes and thicknesses. And, ultimately, the team was ready to complete their first job on the new press.
Canerector is proud and excited for the future of manufacturing this massive endeavour by Conrex as brought not only to their company, but to the advancement of Canada's manufacturing industry on the whole.
Congratulations Conrex Steel team!