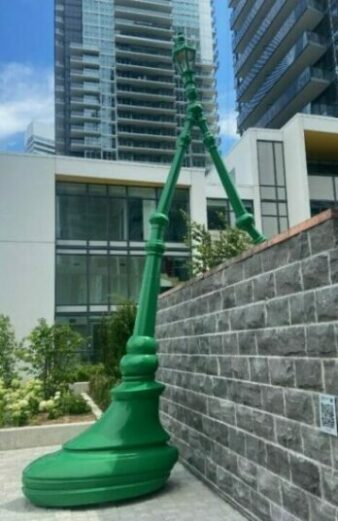 When a customer approached Gamma Foundries to manufacture a unique piece, they were intrigued.
While Gamma has experience in the odd architectural shape, their team was surprised to learn that this was no ordinary request—they were asked to create a 22-foot-high statue comprising of 21 individual aluminum castings built around a steel frame, and designed to be welded and bolted together to create a single piece.
The team at Gamma never shies away from a challenge, so they quickly got to work, but predictably ran into several obstacles throughout the project:
The design and coordination of casting 21 individual pieces required the full attention of the Gamma engineering department, as each had a unique shape and dimensional requirement.
Each casting pattern had to be made from Styrofoam and machined in house, which proved to be a challenge in determining the appropriate foam density against machine tooling, feed, and speed to create the necessary pattern.
Measuring at 80" x 80" x 24" x 3/8", the statue's "feet" created molding and pouring challenges, as the dimensions required specialized in-house fabrication to create Gamma's largest molding flask, and assure metal flow and complete geometry fill.
The surface finish requirement on all 21 castings demanded a high level of surface smoothness to accommodate the final paint process, which they ultimately achieved through a special coating.
The Gamma team overcame every challenge they encountered with unmatched collaboration and ingenuity, and took great pride in their ability to bring such an artistic vision to life. Residents on Toronto's McMahon Drive now enjoy the one-of-a-kind "Leaping Lamp" that stands proudly between two condo towers.
Congratulations to everyone on the Gamma team for all of the hard work that went into the manufacturing of such an eye-catching show piece!